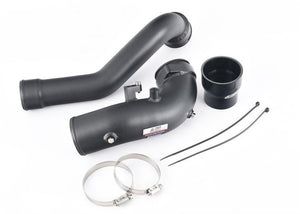 Visconti Tuning
FTP BMW G20 B58 3.0T Charge Pipe
Sale price
$ 270.00
Regular price
$ 350.00
Believe it or not the factory charge pipe is better than most aftermarket units.
If you're wanting a better looking pipe, want to add meth, NOS or port injection then it's time to upgrade to the FTP charge pipe.
Features
*This works with port injection, no additional clamps or couplers are required.*
*3-Ply Silicon Couplers 
* 2x Bungs for water injection and or NOS

For maximum effect, The FTP Charge Pipe both increases flow and improves the reliability of your B58 engine BMW.
The aluminum pipe replaces the brittle factory plastic pipe which can fail under increased boost pressure.
The increased piping size helps to reduce turbulence and maximize flow into the engine. 
---
More from this collection