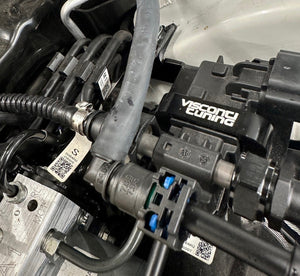 Visconti Tuning
Gen2 BRZ/GR86 Flex Fuel Kit
What's included with the kit:
Zeitronix ECA-2 CANUBUS (Ethanol Content Analyzer)
Ethanol Content Sensor 
Visconti Ethanol Sensor Bracket
Visconti Fuel Line Adapter
Visconti Fuel Line
Visconti Plug & Play Wiring Harness
Optional
This is 100% Plug and Play Flex Fuel Kit. This requires no wires to be cut or spliced. This kit communicates over CANBUS and does not require any codes or sensors to be removed or disabled. No wires need to be passed through the firewall unless you want the optional ethanol content gauge.
For complete functionality this will require a EcuTek Flex Fuel Enabled Tune.
Install takes less than 10 minutes.

---
More from this collection